5

min read
1.5% cash back on all purchases and convenient virtual cards make the No PG, Ramp Corporate Card useful to those with considerable cash flow. Get details below bout Ramp card benefits, along with Ramp savings, rewards, fees, terms, and which businesses can qualify.
Why Ramp
In broad terms, Ramp.com is a spend management platform designed to assist small business owners. The main purpose of a Ramp corporate credit card is to help a business save money, especially when it comes to a company's long-term spending operations.
Ramp cards are powered by the Visa Network and fall under the category of business credit cards that require the cardholder to pay a monthly balance in full. A Ramp corporate card does not charge the cardholder any additional interest and offers unlimited employee cards. Their virtual cards can also be used as small business credit cards with one-time usage with different credit limits and embedded control systems.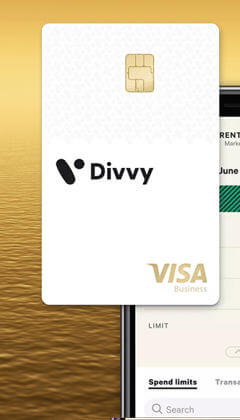 Get cash rewards and a $50k limit!
Divvy credit limits are determined by spending ability, not credit scores. Small business owners that can prove steady monthly revenues can apply for a Divvy corporate visa card.
No personal guarantee is required! All cardholders can also earn up to 7x reward points on hotels and 5x on restaurant purchases.
Get Divvy
Charge Card
The Ramp card is not a traditional business credit card, as those typically have a revolving line of credit. Instead, Ramp is a charge card, which means that you have to pay your company's cash balance in full, each month.
Although the cardholder is responsible for fulfilling their financial obligations, i.e. making payments in full at the end of each billing cycle, they are not charged additional interest.
Your statement credit will inform the cardholder how much your employees have been spending, and what you owe to Ramp. Fraud protection is also provided for each card you issue.
Benefits
Beyond the company spending management tools that Ramp is known for, here is a list of all the benefits that come with using Ramp corporate cards.
No PG
Ramp does not require a personal guarantee for purchases made on their corporate charge cards. Instead, Ramp application approval focuses heavily on a company's financial health, and it will be your positive cash flow, along with your current cash balance, and monthly revenue that determines your credit limit.
Cash Back
Another notable benefit to using a Ramp corporate card is the 1.5% cash back on every purchase with no category restrictions. This means that with every dollar spent on this card, you have an opportunity to earn rewards and reduce your bill payments.
So, for every $1,000 you spend on your Ramp card you will receive a $15 cashback. If you're able to spend $100,000 on your Ramp card, you will earn $1,500 cash back.
Partner Rewards
Your Ramp card provides access to over $350,000 in partner rewards from leading companies such as Amazon Web Services, Salesforce, Zendesk, Slack, are more.
From accounting providers to legal and travel services, you'll find a large selection of deals, discounts, and sign-up offers that you can redeem within their product dashboard. If there are any other business credit cards with more partner offers than Ramp, we have yet to review them.
No Fees
There is no annual fee and no foreign transaction fees associated with the Ramp corporate credit card. Cardholders also do not have to pay card setup fees, or when requesting employee cards or replacement cards.
Since Ramp is a charge card whose balance must be paid in full within your billing cycle, there are no interest charges either.
Visa Benefits
Because the Ramp card is also a Visa you will receive Visa Card benefits that include:
Travel and emergency assistance services
Collision damage waiver insurance on rental cars
Purchase security and extended warranty protection
Do note that your Ramp card does not include the Visa card travel or lifestyle benefits.
Need help getting a fast loan?
Do you need startup financing, working capital for your business, funding for equipment or real estate? Would you like to get approval in as little as 48 – 72 hours, and your funds released within days?
Various lending products ranging are available for most business owners, including those with limited history or bad credit.
Apply Now
Spending Management
Ramp's card technology and business spending operations work towards navigating your spending, at the same time keeping you from paying for unnecessary subscriptions and saving money in the long run.
Free Bill Pay
Ramp cards promote free and easy payments that can save you both time and money. In addition to tracking your spending operations, this corporate credit card is also able to identify redundant business subscriptions.
Expense Management
With Ramp, automated expense accounting is made easier by connecting bills, accounting data, and other financial information. Ramp pulls information from different sources making submitting, approving, and recording reports easier.
Cardholders will receive automatic reporting, which enables them 100% visibility into all business expenses, and is an efficient way of tracking spending.
Employee Card Limits
The average credit limit with charge cards tends to be more flexible than with a normal company credit card. With a Ramp card, you can set individual employee card limits to balance your monthly financial obligations.
Drawbacks
The biggest drawback when reviewing Ramp's credit card was the application requirements. Not many small businesses have $75,000 just sitting around in their bank, and for those that don't, reading our Divvy business credit card review should be of interest.
For those not familiar with how corporate charge cards work, they might be put off by not being able to carry a balance like you can with other revolving credit lines and business credit cards.
Payment Terms
The cardholder is required to pay off the balance in full at the end of each month. It's important to mention that this is highly valued among cardholders with greater financial predictability, who are looking to manage their budget.
Tax refund up to $26k per employee!
Through the Employee Retention Tax Credit, the IRS grants eligible employers a credit equal to 70% of qualifying wages per W2 employee, PER quarter.
If your business experienced a significant decline in gross receipts or was impacted by government shutdowns due to COVID-19, then let us help you solve the IRS's refund application puzzle. You can prequalify today, just by answering 8 simple Yes or No questions.
Get Qualified Today
Qualification
Your bank balance is the main qualifying factor, as you will need a minimum of $75,000 in your bank to get approved. As long as you can pass that requirement, the remainder is quite simple.
An EIN (employer identification number) is needed to apply.
Business must be a corporation, limited liability company (LLC), or limited partnership (LP) that is registered and located in the United States.
The lion's share of your business spending also has to be within the United States.
Currently, Ramp is not accepting unregistered businesses, sole traders, and other individuals.
Application
In order to create a Ramp account, applicants must go to their main page and fill out information that includes their:
Personal information and address
Corporate formation information (including EIN)
Credentials that are linked to a valid business bank account
FAQ
Below you find answers to our most frequently asked questions about the Ramp credit card and the legitimacy of Ramp claims.
1

min read
Yes. Ramp is a 100% legitimate financial service company. Even though it is not a traditional bank, it's supported by traditional banking institutions.
1

min read
It's completely free, but you do need at least $75,000 in your bank to get approved for s Ramp corporate card that will allow you to access their next-generation finance and accounting tools. In fact, Ramp offers unlimited free employee cards and has no annual fee or foreign transaction fees.
1

min read
No. approval for Ramp corporate cards do not require a personal guarantee so there is no need to review your personal credit. Ramp will, however, look at your business bank account to ensure you can meet their minimum balance of $75k, and into your business cash flow to determine your credit limit.