8

min read
By building up your D&B credit rating through NET 30 vendors and other tradelines, you can establish your business credit history, and pursue higher limits for credit cards, financing, loans, and lines of credit. The D&B credit bureau, also known as Dun & Bradstreet, is the most trusted database in tradeline credit reporting. Their DUNS numbers link to business credit profiles, which lenders and potential trade partners will view to assess your creditworthiness.
DUNS Number
The first step in working with D&B to establish and build your business credit is to set up a company profile. This is easily accomplished by registering at dnb.com and waiting to get approved.
To apply for DUNS number, you simply fill in basic information like the name, address, and phone number for your legal business entity, along with your Employer Identification Number (EIN).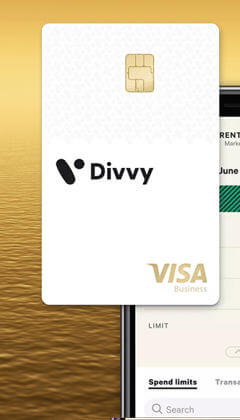 Get cash rewards and a $50k limit!
Divvy credit limits are determined by spending ability, not credit scores. Small business owners that can prove steady monthly revenues can apply for a Divvy corporate visa card.
No personal guarantee is required! All cardholders can also earn up to 7x reward points on hotels and 5x on restaurant purchases.
Get Divvy
There is no cost to register a DUNS number, as long as you're willing to wait out their normal application process, which can take up to 30 business days (roughly 6 weeks).
You can, however, speed up the approval process by purchasing a DUNSfile during registration. This $229 extra package will allow you to add your own tradeline references to Dun & Bradstreet, while also expediting your DUNS number approval to less than 5 business days.
If you're an Apple Developer, due to their partnership with D&B, you can use their system to get free expedited service for DUNS number approval.
D&B Ratings
Also known as your DUNS rating the business credit scoring system within a D&B business credit report offers a glimpse into the financial strength and creditworthiness of your company. How are you rated will be based on your company's financial strength, stability, payment history, and how that compares to your industry competitors.
Your D&B ratings are then split into two parts which include a net worth classification and a composite credit appraisal.
Paydex
Dun & Bradstreet uses a proprietary credit rating system called Paydex, which serves as a guide for loan lenders and NET 30 credit vendors alike. The D&B rating system of Paydex scores ranges from 1 to 100.
The higher your score, the better your chances to qualify for business funding, credit cards, and loans, as well as for increasing your credit/tradeline limits.
If you pay your monthly NET 30 invoices, loan, and credit card payments on time, your Paydex score will increase over time. If you pay your invoice early, you can also qualify for a Paydex score boost.
Net Worth
To be assigned a net worth classification you must first submit business financials to Dun & Bradstreet by adding them to your credit profile. Based on your company's net worth and equity position you will be assigned a specific value.
This rating classification is a mix of letters and numbers. All ratings that start with a number (1 through 5) are reserved for well-established businesses worth $500,000 or more. A rating that starts with the letter B will show a net worth of $200k-$499k, while C is reserved for equities of $75-$249k.
The remaining ratings from DC through HH generally indicate businesses that are still gaining their foothold or are newly established.
| Class | Net Worth (USD) |
| --- | --- |
| 5A | $50,000,000 and Over |
| 4A | $10,000,000 to $49,999,999 |
| 3A | $1,000,000 to $9,999,999 |
| 2A | $750,000 to $999,999 |
| 1A | $500,000 to $749,999 |
| BA | $300,000 to $499,999 |
| BB | $200,000 to $299,999 |
| CB | $125,000 to $199,999 |
| CC | $75,000 to $124,999 |
| DC | $50,000 to $74,999 |
| DD | $35,000 to $49,999 |
| EE | $20,000 to $34,999 |
| FF | $10,000 to $19,999 |
| GG | $5,000 to $9,999 |
| HH | Up to $4,999 |
D&B Net Worth Classification Ratings
Credit Appraisal
This part of the D&B credit check that represents your company's overall creditworthiness. This score has a very simple rating of 1 to 4, with low-risk companies being assigned a 1 and high-risk companies being given a 4.
Your composite credit appraisal score is based on the following factors:
Company's payment history
Years in business
Number of employees
Public records
Financial information
To obtain a score higher than 2 you'll need to add up-to-date business financial statements to your D&B credit profile.
| Rating | Net Worth (USD) | Condition |
| --- | --- | --- |
| 1 | Low risk | High credit |
| 2 | Good risk | Good credit |
| 3 | Fair risk | Fair credit |
| 4 | High risk | Limited credit |
| – | Insufficient data | Undetermined |
D&B Composite Credit Appraisal Ratings
Need help getting a fast loan?
Do you need startup financing, working capital for your business, funding for equipment or real estate? Would you like to get approval in as little as 48 – 72 hours, and your funds released within days?
Various lending products ranging are available for most business owners, including those with limited history or bad credit.
Apply Now
Building Credit
The periodically reporting of business credit activity is generally done monthly, which is why opening up numerous NET 30 tradelines is important.
By having all your transactions and on-time payments reported monthly to the major credit bureaus, you can build up your credit score or repair a damaged one.
Your relationship with the credit reporting agency of Dun & Bradstreet will be one of the most important factors in extending your business credit and getting higher loan limits. Your corresponding D&B Paydex score will factor heavily into whether your loan applications get approved or denied.
To get started building your credit profile with Dun & Bradstreet, you first need to learn how to apply for a DUNS number. The first step is simply to make sure you are a legal business entity in your state with credentials to match.
EIN
An EIN is your Employer Identification Number, a tax number dedicated to your business, and assigned by the Internal Revenue Service (IRS).
There are many reasons to apply for an EIN, but in regards to building credit, most lenders and vendors will require an EIN to qualify for approval.
How to Apply
The quickest method to obtain an EIN is to apply online on the IRS website. You can also apply by fax by sending a completed Form SS-4 to 1- 855-641-6935 with a turnaround time of up to 4 business days. If you rather send your SS-4 via snail mail to the Cincinnati, Ohio office of the IRS, this will add further delays in processing.
Buyer Beware
Getting an EIN assigned to your business is free of charge. Contrary to some shady websites might you believe, the IRS has absolutely no fees associated with granting EINs.
Tax refund up to $26k per employee!
Through the Employee Retention Tax Credit, the IRS grants eligible employers a credit equal to 70% of qualifying wages per W2 employee, PER quarter.
If your business experienced a significant decline in gross receipts or was impacted by government shutdowns due to COVID-19, then let us help you solve the IRS's refund application puzzle. You can prequalify today, just by answering 8 simple Yes or No questions.
Get Qualified Today
Business Bank Account
It only goes without saying, that if you apply for business credit, you'll need a separate bank account from your personal one in the name of your legal business entity. If you don't have a business bank account, you won't be able to apply for a DUNS number, nor get any tradeline credit reporting. If you want a business credit card, loan, or credit line, you'll again need a bank account in the name of the business on the application.
Once you have an account, make sure all of your income gets deposited into it, and all business expenses paid from it. You can also then apply for a merchant account, so you can accept debit and credit cards payments.
Tradelines
Once your EIN is set up, your bank account ready, and your DUNS number registered, you'll be ready to set up multiple tradelines of credit. Typically, you'll start by applying for NET 30 vendors and gas cards that offer easy approval requirements.
If you need stationery, then applying for a vendor account at Crown Office Supplies should be high on your list. If you require cleaning or industrial supplies, then start browsing the Grainger catalogs.
When specific vendors require qualifying prepaid purchases or customer history, make sure they report all payments, including prepaid ones to Experian and Equifax. When spending money to build credit, you want to make sure every purchase is something you need to do business, and that it will have a positive effect on your credit score.
Pay on Time
Paying your bills on time is a key factor in increasing your credit score, so It should go without saying, that if you do the exact opposite, it will decrease your credit score.
Any monthly report in your credit history that mentions late or negligent payments is cause for concern. If you don't pay your bills on time, you'll have to repair the damage to your credit score, before you can work on increasing it.
Paying earlier than your due date, is even better, as it can help ensure no checks get lost in the mail and no payment slip through the cracks. In the case of vendors who report to Dun & Bradstreet, paying invoices early can add an extra boost to your Paydex score.
Credit Monitoring
Within the D&B system, you'll have one free and four paid options to monitor your tradeline credit reports. In regards to standard monthly packages, there are few different options to choose from CreditSignal (free), CreditMonitor ($39), CreditBuilder Plus ($149), and Credit Builder Premium ($199).
CreditSignal
This option is free of charge and allows you to receive alerts to changes in your D&B credit scores and rating, including your Paydex score. You'll also be able to see how often your business credit file is being accessed.
For the first 14 days of your CreditSignal membership, you'll be able to view all four of your business credit scores and ratings. View a sample report.
There's not much point in signing up for this right away, as outside of the alerts, you'll lose out on a valuable freebie while establishing your credit.
Tip: You can also get free credit alerts, and free credit report summaries at Nav.com that include Dun & Bradstreet, Experian, and Equifax with no trial expiration date.
DUNS Manager
The D-U-N-S Manager is a free app for US-based, non-public commercial organizations. Once inside, you can search for and verify if your business information in the D&B is correct, and/or request changes.