5

min read
Master building business credit by intelligently exploring expert strategies and tips to boost business growth and secure loan approvals. Use tradelines with net 30 invoicing, secured credit cards and beginner credit lines on gas and store cards. As you build up profiles with the major credit bureaus you can then start to apply for business credit cards, lines of credit, loans, or equipment financing.
Formal Business Entity
The first step to earning legitimacy in the eyes of lenders is to properly set up your business as a formal business entity which will serve as your foundation for establishing business credit.
Business Registration
If you're operating your business as a sole proprietor or under a DBA (Doing Business As) trade name, you'll find building up your credit history to be an uphill battle.
To earn credibility with any lender, you have to demonstrate being able to earn consistent revenues, and the first step to doing that is registering a legitimate business entity such as a limited liability company (LLC) or a corporation.
When doing business as a sole-proprietorship your personal income will be attached to your business income, and you will not able to effectively build business credit. Sole-proprietorships also come and go with the times, but businesses built on a solid foundation tend to survive longer and generate higher annual revenues. Hence, why lenders prefer you register your business as an LLC or corporation before you apply for credit.
You can learn more about how to create a legal business entity by reading these articles on how to form an LLC or form a corporation.
If you need help getting your business legalized, know that you can register an LLC for free with Incfile or file your S Corporation/C Corporation with them while only paying state fees.
EIN
After choosing the structure of your business entity, you'll need to obtain an Employer Identification Number (EIN) from the IRS. This unique ID number is required for employers to file business tax returns.
The are many other reasons to get an EIN, but most important are that your tax number is needed to open a business bank account, and to apply for business loans/line of credit.
Do note that while some online services charge $70-$100, you can do it yourself and register your EIN for free. The easiest way to apply for an EIN is via the IRS website, but you can also fax or mail in your Form SS-4.
Easiest Approval
Building credit with Ohana is so easy!
No membership fees, an initial $2,000 credit limited being reported, and a $1,000 limit increase with each $80 invoice paid makes Ohana the best office supply company to start building business credit with.
411 Listing
Typically, everything you need to apply for from here on in will require a business phone number, so it would be best to get this out of the way early. Lenders in particular will do a precursory check to see if your business can be found in 411 directory assistance, before even considering your application.
By having a dedicated business phone line, you'll seem a lot more legitimate, and less of a risk. Some options to get you set up quickly are, RingCentral, Talkroute, or eVoice. If you're a mobile user, then Nextiva and Grasshopper should be on your radar, while Kixie reigns supreme for telemarketers.
Bank Account
Once you've received your EIN from the IRS, you'll need to set up a business checking account.
By routing your account receivable/payables through your business bank account, it will make tax time easier, and ensure you'll have the financial documentation required for a future business loan.
If need to save money on transactions then use a no-fee, online business banking service like Novo, Mercury, Relay Financial. If you send out a lot of ACH or bank wires, then a company like Brex is worth looking into.
If you're able to maintain a $2,000 balance to negate their checking account fees, then Chase for Business is a decent option. Their Chase Ink line is currently ranking quite high on our top business credit cards, and you're more likely to get pre-approval when banking with them too.
If there's a local community bank that also heavily promotes small business loans in your area, banking with them for 6-12 months might get you a leg up on your loan application.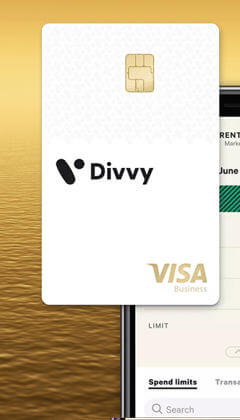 Get cash rewards and a $50k limit!
Divvy credit limits are determined by spending ability, not credit scores. Small business owners that can prove steady monthly revenues can apply for a Divvy corporate visa card.
No personal guarantee is required! All cardholders can also earn up to 7x reward points on hotels and 5x on restaurant purchases.
Get Divvy
Online Presence
A business website is not just something that just represents your brand, but also your legitimacy. Anyone who wants to know more about your business these days will most likely search for you online. This is most especially true for credit lenders who will do an online audit as well to determine your creditworthiness. The more authentic and modern your online presence is, the likely you are to get your credit application approved.
If you have no idea how to set up a website, then an easy-to-use website creator like Wix.com ($15/mo) can help you quickly build an online presence without needing any coding skills. If you're have experience using WordPress and want to focus on SEO, then start with a fast web host like LightningBase ($100/year).
Heavily advertised, shared hosting services like GoDaddy, BlueHost, SiteGround, etc. will limit your website speed unless you buy a very expensive account ($500+ per year). If you're using WordPress, even a simple plugin upgrade could trigger a CPU usage restriction, leaving your website loading in super slow motion. So be safe, and go with a fast, but still cheap host like LightningBase right off the bat.
DUNS Number
Now that you got almost everything you need to apply for credit, the only thing left to do is to register a DUNS number at Dun & Bradstreet (also known as D&B). This unique nine-digit identifier will be your bread and butter in building business credit, as it's where your tradeline activity is reported.
You can register a DUNS number on dnb.com for free, but it comes with a catch. It's only free if you're willing to wait up to 30 business days (6 weeks) to get it. If you want to build business credit fast, waiting six weeks just to start is a nightmare.
While other nefarious websites advertise fast DUNS number approval for a price, there are only two ways to do it. When you apply for your DUNS number, you'll be given an option to purchase a DUNSfile which will cost you $229, but ensure you get your DUNS number within 5 business days.
If you created an IOS app for your business, however, you can get the same fast-track service for free when you apply for a DUNS number as an Apple Developer.
Once you have a DUNS number, you'll net to create at least five NET 30 vendor accounts to start building the foundation for your business credit ratings.
Need help getting a fast loan?
Do you need startup financing, working capital for your business, funding for equipment or real estate? Would you like to get approval in as little as 48 – 72 hours, and your funds released within days?
Various lending products ranging are available for most business owners, including those with limited history or bad credit.
Apply Now