9

min read
Are they legit? Their 4.9/5 BBB rating with over 600 reviews, along with 400 more on TrustPilot show hundreds of small businesses and real estate investors who say they are. In 14+ years Fund & Grow has helped over 28,000 business owners access over $1.2 billion in unsecured business credit. Now that's an impressive resume worth looking at in-depth.
What is Fund & Grow
When lenders tightened their purse strings and interest rates skyrocketed after the financial crisis in 2008, Fund & Grow founder and CEO Ari Page developed a new business funding process.
The revolutionary concept was centered on financing company growth through 0% APR credit where business owners could get quick access to capital without paying interest on it.
Today, their motto is the same Fund & Grow has assisted thousands of businesses to gain $50K-$250K in unsecured business credit lines with 0% interest for 12-18 months.
Need help getting a fast loan?
Do you need startup financing, working capital for your business, funding for equipment or real estate? Would you like to get approval in as little as 48 – 72 hours, and your funds released within days?
Various lending products ranging are available for most business owners, including those with limited history or bad credit.
Apply Now
How it Works
Think of Fund & Grow as an intermediary that educates you, and works on your behalf to gain approval for several unsecured credit lines via 0% interest business credit cards. They accomplish this through their inside knowledge of lender qualifications and a power of attorney, signed by you to allow them to apply for certain credit cards on your behalf at the right times.
In short, they make sure you can prequalify for each card before they apply, and then they coach you on how to liquidate your credit.
Who Can Qualify
Most companies can qualify for 0% interest credit card approvals of at least $50K whether they are doctors, lawyers, small business owners, or real estate investors. There is no minimum credit score required to sign up for their 12-month plan, but you will need to pay their upfront fee.
To qualify for their performance-based plan where you simply pay a percentage of what you receive, you will need an excellent credit score of 730 or more.
Funding Process
While the credit acquisition process at Fund & Grow is fairly simple to comprehend, you can easily get distracted by dollar signs and dreams of future spending. Once you understand the process, you can prepare for what's next.
An initial consultation should be conducted with Fund & Grow before you submit your application so they can understand your credit situation and your funding goals.
Before you start applying for unsecured business credit, they'll most likely suggest building up your credit score so you can qualify for the best rates and higher limit credit lines.
We freely offer advice to help build business credit quickly by seeking out vendor credit with easy approval, and specifically targeting Net 30 accounts that report to multiple major credit bureaus. For personal credit score boosts we recommend looking into Open Sky, Experian Boost, and Fingerhut.
Funding Usage
The money you receive after approval from Fund & Grow's efforts can be used for things like inventory purchases, marketing campaigns, business expansion, rent, employee salaries, etc. There is a ton of flexibility with this type of financing as lenders will not try to dictate what you can and cannot spend your funding on.
Pricing & Fees
The Catch-22 is that Fund & Grow charges an upfront fee of roughly $4,000 to make sure your business credit applications get approved. They do, however, have monthly payment plans and a money-back guarantee that ensures you'll get at least get $50K at 0% interest within 12 months.
For those not wanting to pay anything upfront, they offer have a performance-based plan where you get charged $1 plus 9% of the total credit you receive. If you do the math, that's $4,500 for the first $50K and $22,500 if they get you the full $250K. You'll also need a minimum 730 credit score which pretty much guarantees you'd qualify to pay them more money than paying upfront.
Warning
Upon signing up for either funding plan Fund & Grow will also auto-subscribe you to their education newsletter at $50 per month, which you should quickly unsubscribe from should it not prove to be of value to you.
Don't be fooled into thinking your zero percent interest rate will last forever either. Any unsecured credit lines that come with 0% ARP interest rates will also have an expiration date attached that is generally 12-18 months from credit approval.
After the intro period is over, this 0% interest funding becomes high-interest credit, so don't borrow anything you cannot fully pay off before the interest-free period is over.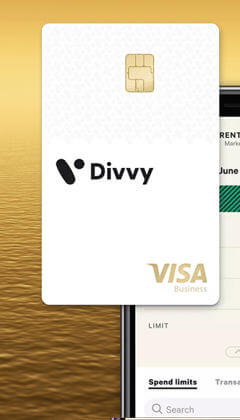 Get cash rewards and a $50k limit!
Divvy credit limits are determined by spending ability, not credit scores. Small business owners that can prove steady monthly revenues can apply for a Divvy corporate visa card.
No personal guarantee is required! All cardholders can also earn up to 7x reward points on hotels and 5x on restaurant purchases.
Get Divvy
Funding Options
There are two different programs to get approval for unsecured credit from Fund & Grow, although only the 12-month plan is cost-effective in the long term.
Overview
The value in working with Fund & Grow is that you can receive large amounts of credit that you wouldn't ordinarily qualify for. If you invest the money into your business, you must ensure it turns a profit or you at least break even before your 0% intro period is over. If your debt is not then paid in full, the interest will start piling up, and it will get harder and harder to reduce your balance.
Both funding programs, credit counselors will hold your hand through each application process and guide you every step of the way. Fund & Grow will also pretty much do all the legwork that ensures you'll get approval for the 0% interest business credit lines that you are prequalified for.
At first, they will commence an in-depth credit review and analyze the easiest ways for you to increase your credit scores. With this data in place, they will then calculate which unsecured credit options that you currently can qualify for, or could easily qualify with some minor credit building.
Lastly, Fund & Grow will teach you how to transfer balances and turn your 0% APR credit cards into cash.
12 Month Plan
This is the plan we recommend as your total fee to obtain unsecured credit lines of at least $50K is capped at a flat rate of $3,997. So whether you get approval for $50K/$100K or $250K, the price is the same. They offer a 60-day money-back guarantee where you'll get a full refund minus a 4% transaction fee ($160).
At $50,000, your upfront fee equals roughly 8% of your total funding amount. When considering these credit lines will be interest-free for 12-18 months, that's a pretty good deal. At $100K in funding, it's less than 4% of your total amount, while at $250K it's a shockingly low 1.6%.
This 12-month plan revolves around them helping you gain approval for business credit cards with 0% APR interest, then teaching you how to utilize them to pay for whatever you need to purchase. A brief synopsis of the program is below.
No minimum FICO credit score needed to apply
Pay an upfront fee of $3,997 with payment plans available
Receive a guaranteed $50,000 or more in credit at 0% APR interest within 60 days
Educational tutoring and assistance in applying for a further $50K- $200K of corporate credit accounts
Membership into the MCCB Accelerated Funding program
Your upfront fee is refundable for up to 60 days if no credit is procured, but there is a 4% transaction fee deduction ($160) on refunds.
Performance-Based Plan
The second program offered by Fund & Grow is a performance-based pay model. There are no upfront fees other than a $1 cost, but you will have to pay 9% of the total amount they get you funding for. At $50,000 this turns out to be $4,500, or $9,000 per every $100K.
While you'll save money in the beginning, the credit acquisition fee you'll pay is not capped, and the more the funding they get you approved for, the more you'll pay.
There is also a minimum 730 FICO credit score required, which means you'll need excellent credit just to qualify. On top of that, they'll auto-enroll you for their educational newsletter which costs $50 per month, and you'll have to unsubscribe to ensure you don't have to pay it.
That being said, if you can't afford to pay the upfront fee, then this option might be the only one available to you.
Applicant must have an excellent 730 or higher FICO personal credit score to access this plan
Applicant must also currently have $10K-$20K in combined bank-issued credit card limits
No plan fees are required other than a $1 sign up fee
The signup process, however, triggers an auto subscription to their $50 per month educational newsletter
Credit counselors will review your application and notify you of your prequalification amount
Upon credit being established, you'll have to pay 9% of all funding they've gotten you approved for
Once meeting all Fund & Grow guidelines, you'll be able to access your funding within 30 days
Beware
Credit is like a house of cards; it takes a painstaking amount of time to build up your personal credit report, and it can easily fall apart if not properly protected.
Unlike the 12 month option, the performance-based plan requires a personal guarantee which can hurt your credit score. Your income to debt ratio will increase with any credit card debt you incur, while your income to sustainable credit ratio could easily max out.
Tax refund up to $26k per employee!
Through the Employee Retention Tax Credit, the IRS grants eligible employers a credit equal to 70% of qualifying wages per W2 employee, PER quarter.
If your business experienced a significant decline in gross receipts or was impacted by government shutdowns due to COVID-19, then let us help you solve the IRS's refund application puzzle. You can prequalify today, just by answering 8 simple Yes or No questions.
Get Qualified Today
Other Services
While the main goal of using Fund & Grow is to obtain the business funding you need via low-interest credit lines, there are some extra benefits worth noting.
Credit Building Program
While they're not specialized as a credit repair company, you will receive guidance for assessing and monitoring your credit profiles. They can also help you build vendor credit up to $100K and show you how to increase your PAYDEX credit score at Dun & Bradstreet.
Remove Credit Inquiries
If you outsource removal of credit inquiries, it will typically cost you around $350. The Fund and Grow team can teach you how to do it yourself for free, with bad inquiries being removed within 45 days.
Credit Boosts
If you need to quickly boost your business credit, you'll find they offer guidance on what steps you can take to increase your credit scores.
SBA Loans
The applications for Small Business Administration loans can be a daunting task. If you need help, they can assist in developing your company's business plan, and ensuring your meet all SBA application requirements.
Business Registration
If you haven't already created a legal business entity, you can get assistance on how to register an LLC, C-corp, or S-corporation.
EIN Assistance
If you haven't also done so, you can get free advice on how to obtain an Employer Identification Number (EIN) for tax purposes.
Educational Newsletter
As a member, do note that you will be automatically enrolled for their for their Fund & Grow Eductional Newsletter which costs $50 per month. While the information contained within can be beneficial to those with little knowledge of how to build business credit, we recommend you consider unsubscribing before you get auto-billed.
FAQ
Below you'll find answers to our most frequently asked questions about Fund & Grow that include their entire process, how much they charge, and how they fare with the Better Business Bureau.
1

min read
Their main clients are people with an already profitable business in need of a cash flow increase or those with a real estate investing business looking to flip houses within a 12-18 month period. The key to making this type of funding worthwhile is to ensure your credit lines get paid off in full before the introductory, 0% interest-free period expires.
1

min read
There are two types of funding options with the 12-month membership plan costing $3,997 being the most viable. With it, you'll get a 60-day money-back guarantee if they can't procure $50,000 in credit for you. The capped upfront fee has an 8% maximum cost and can go as low as 2% at $250K. The performance-based plan however requires you to pay 9% of total funding, so the higher the credit you receive, the higher the fees.
1

min read
The advantage of using an intermediary like Fund & Grow to apply for unsecured business credit is that they know exactly what you need to get prequalified, and they'll do all the legwork required to make sure you get approved. While it is costly, if you get approved for a higher limit than you would have gotten yourself, it can be more than worth it.