3

min read
If you need money to flip, hold, repair, renovate or remodel your real estate investment, you should learn all about investor credit lines. Statistical data shows that the return of investment (ROI) for real estate in the United States averages 12%—16%, which can make it more lucrative than the stock market. When financing your next real estate fix and flip, note that you will only pay interest on what you withdraw from a revolving credit line.
What Is It?
This term, real estate investor line of credit is designated as revolving financing granted for the purchase, repair, and renovation of a property. This line of credit can be used similarly to a business credit card and is extended based on the equity in a real estate investment. This means that once acquiring such a credit line for your investment, you will have the possibility to use the funds gradually as needed.
Financing for the line of credit comes mainly from banks and credit unions that help both individuals and established house flipping companies.
Need help getting a fast loan?
Do you need startup financing, working capital for your business, funding for equipment or real estate? Would you like to get approval in as little as 48 – 72 hours, and your funds released within days?
Various lending products ranging are available for most business owners, including those with limited history or bad credit.
Apply Now
Who Can Qualify?
Anyone doing renovation and rehabilitation of homes and full buildings on a property, or who updating their existent real estate investment can get approval.
This is a direct process, which looks very much like the home equity line of credit (HELOC), meaning loans for the refurbishment of homes occupied by owners.
This approach makes the real estate investor lines of credit one of the most attractive options on the real estate financing market.
Comparing Financing Options
To better understand if there is a good opportunity for you in applying for a real estate investor credit line, then let's first determine the clear boundaries between hard money, credit cards, loans, and lines of credit.
Hard Money Loans
These are usually granted to individuals or businesses that have a bad credit score. They are normally short-term loans with interest rates averaging between 11% and 18%. The hard money is lent by the seller of the respective real estate property, by a business, or by any private investor.
Revolving Credit Cards
When given a line of credit with a revolving card, the funds can be used however the investor sees fit. These act just like a normal credit like MasterCard or Visa for purchases, as you can pay for almost anything with them.
You can also transform the credit card into cash, to make the purchase, since many sales channels do not accept directly the credit card. The interest rate for credit cards varies from one lender to the other, however, you could expect an average of 15%.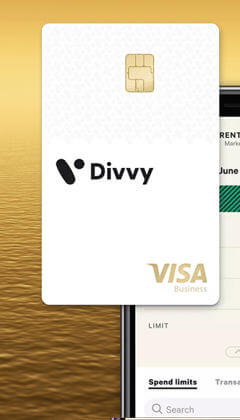 Get cash rewards and a $50k limit!
Divvy credit limits are determined by spending ability, not credit scores. Small business owners that can prove steady monthly revenues can apply for a Divvy corporate visa card.
No personal guarantee is required! All cardholders can also earn up to 7x reward points on hotels and 5x on restaurant purchases.
Get Divvy
Loans
These usually come with a very strict set of rules that individuals and companies must follow, under penalty risk. Loans come as one bulk amount, intended for a certain clear action, and come with fixed repayment dates.
From the real estate investment point of view, a loan equals a mortgage. It can be recovered in the full amount of the property, minus the down payment. Terms for real estate loan repayment are considerable, between 15, 20, and 30 years. The interest rates vary quite a lot, depending on the loan's conditions. However, the current average is somewhere between 2.3 and 2.9%.
CREDIT Line
Real estate investor lines of credit are similar to credit cards and come with revolving terms. Yet the main difference is the interest rates. They are closer to the ones applicable to mortgages.
You could see these lines of credit like gathering the best of mortgages and credit lines, two in one. However there are some particularities, You cannot finance the entire property purchase through a real estate investor line of credit. They usually come with a short-term repayment and are focusing on solving an immediate need connected to the real estate investment.
FAQ
Below you'll find answers to our most frequently asked questions about real estate investor lines of credit, including financing terms, what they can be used for, and how to qualify.
business-credit-line
1

min read
It's a short-term financing method that allows real estate investor to only pay interest of the money they withdraw from a revolving credit line, rather than their full borrowing limit. The investor can then draw funds from their credit line when needed to complete repairs or renovation upgrades. The investment property itself, must generally not be occupied by the owner or by another tenant.
1

min read
The answer is almost everyone can get approved under the condition that the real estate property has equity in it. It makes no difference if you use it to live in it as a primary residence, or as a business office, or if it represents just an investment to sell further. As long as it can be leveraged, it makes a valid object for a line of credit contract.
1

min read
The most common methods of gathering financing are hard money loans, mortgages, credit cards, and lines of credit. Generally, the one with the lowest interest rates and easiest payment terms that an applicant can easily qualify for is the one they take.
1

min read
Yes, but you will be restricted to a home equity line of credit (HELOC) in this situation. This type of financing will allow you to get a credit line to use on a space you are renting, under the same terms and conditions as for a home that you occupy yourself.
1

min read
Yes, you can obtain a mortgage with a 30 years repayment term both for investment properties and owner-occupied homes, but this isn't really viable in regards to using an investor line of credit.
1

min read
Yes, the best solution for this situation is a hard money loan. They are usually short-term and come with high-interest rates. If you need to buy time, while you work on repairing your credit to ensure you qualify for a lower interest loan or credit line, then they can be worth it.
1

min read
Yes, this can be achieved by ensuring you have a very large business credit line limit. However, with higher interest rates attached to a credit line over a mortgage, this is only a short-term solution rather than a 30-year plan.
1

min read
As long as this is an investment that will significantly increase your ROI, this can become a smart method for real estate financing.
Tax refund up to $26k per employee!
Through the Employee Retention Tax Credit, the IRS grants eligible employers a credit equal to 70% of qualifying wages per W2 employee, PER quarter.
If your business experienced a significant decline in gross receipts or was impacted by government shutdowns due to COVID-19, then let us help you solve the IRS's refund application puzzle. You can prequalify today, just by answering 8 simple Yes or No questions.
Get Qualified Today