8

min read
The minimum credit score requirement for Kabbage loans is 640 which puts them in line with many competitors like OnDeck, Fundbox, and Funding Circle. Like their competitors, they have further requirements for time in business, business revenue, and an active business bank account.
Eligibility
Kabbage loans is a financing system that mainly focuses on small business owners. They do not have a minimum personal credit score requirement. However, when applying for a loan or a line of credit with Kabbage, they will run a check on both your business financial history and your personal credit score. They do not care about the company's annual revenue cutoff, however, they thoroughly analyze the transaction volume, the average monthly revenues, credit card sales, and other financial indicators. Depending on this data they will approve a specific credit limit.
Need help getting a fast loan?
Do you need startup financing, working capital for your business, funding for equipment or real estate? Would you like to get approval in as little as 48 – 72 hours, and your funds released within days?
Various lending products ranging are available for most business owners, including those with limited history or bad credit.
Apply Now
Personal Credit Score
Though no specific limit is requested, they have a recommendation regarding the applicants' minimum personal credit score that qualifies you or not for a Kabbage loan or line of credit. The business owner needs to present a credit score minimum of 640 to qualify. For the company's financial situation, they will assess the commercial credit report.
Time in Business
To apply and qualify for a Kabbage business line of credit, you have to be operating for at least 12 months. Your company must have a business checking account that Kabbage can deposit your funds into.
Annual Revenue
Kabbage doesn't make public a specific minimum annual revenue that a company needs to qualify for a loan or line of credit. However, this indicator is an important milestone in the financial analysis for every applicant. They only mention that your annual revenue will affect the credit limit that you can obtain.
Fees
While their interest rates are still high, Kabbage funding options have very low fees. You could even say that their origination fees are lower than those offered by many banks. When comparing average costs to other online lenders, Kabbage's reputation shines with affordable loan fees.
Funding Timeline
The downside of applying for a loan with Kabbage is the slow approval and arrival of funds. When compared to other online lenders, you will have to wait for a while to see the money your business needs coming. If you need fast money, you could look at OnDeck or their other competitors which can grant funds on the same day and instant turnaround. Other online lenders provide better and faster terms, however, they do not offer the same advantageous costs and fees.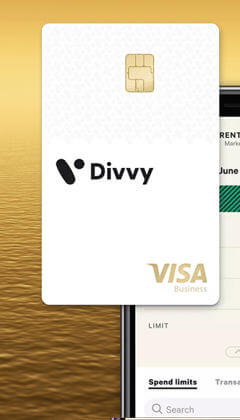 Get cash rewards and a $50k limit!
Divvy credit limits are determined by spending ability, not credit scores. Small business owners that can prove steady monthly revenues can apply for a Divvy corporate visa card.
No personal guarantee is required! All cardholders can also earn up to 7x reward points on hotels and 5x on restaurant purchases.
Get Divvy
Post-Funding
After getting the approval and receiving the money in your business account you can start withdrawing various amounts from the Kabbage line of credit once per day, every day. You can access your Kabbage account and perform all the operations either from their online platform from the dashboard or the Kabbage mobile app. The interest you have to pay is only calculated to the amounts that you withdraw from the total received funds.
Repayment
The loan repayment process requires due amounts to be automatically withdrawn from your business bank account. Repayments are made monthly and Kabbage always notifies you in advance about the due payments schedule, so you can have time to prepare the appropriate amounts.
This is not the only option. You can make payments in advance, manually, for the respective amounts, or even more. There is also the option from the dashboard to review and reschedule the repayment options. You can also manage the upcoming payments, check the history of the latest monthly payments or make calculations for additional loans and their respective payments.
Penalties
No prepayment penalties are levied on Kabbage loans, which means that you not only save money on monthly fees, but interest charges too when paying your loans off early.
Credit Reporting
Unfortunately, Kabbage loan payments do not get reported to personal or business credit bureaus. So your on-time payments will not help you build your credit history.
Loan Dashboard
You can also manage your upcoming payments, see historical payments, and preview potential payments for any new loans you make using the Kabbage loan dashboard.
Application
The entire application process is simple. You can do it from their online platform or the mobile app. In both cases, it will not take you more than 10 minutes. Here are the main steps when applying for a Kabbage line of credit or loan.
Create an Account
The start is directly from the Kabbage website, or the second option is to download the Kabbage app on your phone. Both platforms allow you to open your new Kabbage account. Then, for the current American Express clients, there is the option to open this account through their Amex login credentials.
Apply Online
The onscreen guidance will notify you what information and where to fill it in. You have to provide your full name, your business name, the industry your business belongs to, the addresses of your home and your business, both phone numbers, the business tax ID, and the SSN (Social Security Number). They will request you to consent to additional credit inquiries about the business credit history and your personal credit score.
Await Approval
Kabbage then proceeds to analyze and verify the information you provide to determine your business status and financial state indicators, as well as your personal financial situation. It can equal approve or deny your application. Although it can last a lot longer than for the other online lenders, the approval process could also take only some minutes if the information you provided is solid and your identity easy to verify. The extended period applies only when additional information is needed.
Loan Agreement
Kabbage will inform you of the level of the credit limit that has been approved for your limit. Then you can decide how much you intend to borrow from this limit, as an initial amount.
Then you will select your repayment schedule from the options available. Some terms vary from 12 to 18-month payments. After all, this is decided, the only thing left is to sign the loan agreement. You will receive the money afterward, usually within three business days. Sometimes it takes even longer. The money transfer term mostly depends on the borrower's bank.
Tax refund up to $26k per employee!
Through the Employee Retention Tax Credit, the IRS grants eligible employers a credit equal to 70% of qualifying wages per W2 employee, PER quarter.
If your business experienced a significant decline in gross receipts or was impacted by government shutdowns due to COVID-19, then let us help you solve the IRS's refund application puzzle. You can prequalify today, just by answering 8 simple Yes or No questions.
Get Qualified Today
Competition
There are a few Kabbage competitors that offer similar funding solutions, with OnDeck being the most popular, followed by Fundbox and Funding Circle.
OnDeck
OnDeck offers small business term loans, as well as lines of credit, for up to $250,000 and $100,000, respectively. To be eligible, you'll need to be in business for one year with at least $100.000 in annual revenue, as well as a personal credit score of at least 600. OnDeck does require daily or weekly repayment, which — depending on your business — could be a good or bad thing.
When comparing Kabbage vs OnDeck for term loans, OnDeck comes out ahead in terms of their minimum credit score. If, however, you prefer monthly payments and no monthly fee, Kabbage is the better choice.
Fundbox
Fundbox offers both a term loan and line of credit product, and either one can help you with cash flow gaps or working capital needs. Like Kabbage, Fundbox also offers quick funding in as fast as two business days.
If you can't meet the length in business criteria then Fundbox has a slight edge when pitting Kabbage vs. Fundbox. They too offer working capital financing with qualifying based on your time in business (three months transaction history in a business bank account or two with Fundbox-supported accounting software). Other requirements are a 600 FICO credit score (40 points lower than Kabbage) and $150,000 in gross revenue ($50k more than Kaabage)
Some extra include Accounting services that Fundbox works with include QuickBooks, FreshBooks, Harvest, Clio, and Zoho.
Funding Circle
Funding Circle offers financing in the form of term loans and lines of credit, with notably larger amounts than Kabbage does for its line of credit. You can borrow up to $500,000 through Funding Circle with rates between 4.99% – 19.49% and term lengths of 6 – 60 months. So when it comes to comparing the maximum credit line funding amount in Kabbage vs. Funding Circle, it's the latter that wins hands down.
However, qualifying for a Funding Circle business loan is a little more difficult: You'll need to have been in business for two years (1 more than Kabbage) with a personal credit score of 660 or higher (60 points higher than Kabbage's fair credit rating requirement).
Funding Circle can also take as little as one business day to fund your loan offer, and you'll need to offer a personal guarantee.
PayPal Working Capital
PayPal Working Capital is only suitable for businesses that make a majority of their sales through a business PayPal account — so if you don't use them for merchant process, there is no reason to pit Kabbage vs. PayPal, as Kabbage loans would be the clear winner.
To qualify for a PayPal working capital loan, you'll need a PayPal Business or Premier account that's been in use for the past three months with $15,000 or $20,000 in gross annual business revenue, respectively. PayPal does require repayment as a percentage of each sale you make on the platform.
FAQ
Below you'll find some of our most frequently asked questions about Kabbage small business loans, along with how they compare to the competition.
1

min read
American Express announced their deal to purchase Kabbage on August 17th, 2020. This California Finance Lender loans company based out of San Francisco is now part of the AMEX umbrella. Many reviews mention being hopeful it will help improve their customer service satisfaction levels.