6

min read
Review the benefits of a no annual fee, Home Depot commercial account, or revolving credit line with fuel rewards and net 30 terms. Once approved by Citibank, you'll get extended 1-year returns, monthly credit reporting to three business credit bureaus, and up to 60 days of interest-free payments.
Why Apply
If you shop at Home Depot for tools, supplies, construction products, or services, and want to build up business credit or increase your score, applying for a Commercial Account or Commercial Revolving Charge Card is in your best interest. While they are more like store charge cards than true business credit cards, you can still use them to buy what you need while managing your business cash flow.
The no annual fee Home Depot commercial account card is available with Net 30 terms or as a revolving credit line with low monthly payments. When using their online account management and itemized billing statements, Home Depot's credit cards for business owners also allow for easy tracking of employee purchases.
Extra perks include free employee cards, itemized billing, along optional enrollment in Home Depot's Loyalty Program or Fuel Rewards Program via Shell.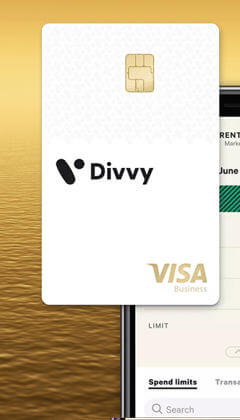 Get cash rewards and a $50k limit!
Divvy credit limits are determined by spending ability, not credit scores. Small business owners that can prove steady monthly revenues can apply for a Divvy corporate visa card.
No personal guarantee is required! All cardholders can also earn up to 7x reward points on hotels and 5x on restaurant purchases.
Get Divvy
Account Types
There are two types of Citibank credit cards you can apply for at Home Depot. There is the Commercial Account which is the most common, and easier to qualify for. It has a lower limit and requires payment in full each month.
The Revolving Commercial Credit Card, on the other hand, offers a revolving charge where you can simply pay the minimum payment, and let the balance roll over to the following month.
Both of the Home Depot credit lines have late payment fees, so be sure to pay your bills on time to quickly build up your business credit history.
Commercial Account
When you apply for Home Deport Commercial Account your purchases will be with Net 30 terms where invoiced payments are due in full each month. When paying your invoices on time, you can quickly build up your tradeline credit, as all payments are reported to multiple business credit bureaus
Commercial Revolving Charge
When applying for Home Depot Commercial Revolving Account, their Pro Xtra credit card allows you to either pay your balance in full or pay the minimum monthly payment with interest being added to your balance.
Need help getting a fast loan?
Do you need startup financing, working capital for your business, funding for equipment or real estate? Would you like to get approval in as little as 48 – 72 hours, and your funds released within days?
Various lending products ranging are available for most business owners, including those with limited history or bad credit.
Apply Now
Perks
No matter which Home Depot credit card you choose to apply for, you'll get some added perks, such as:
Pay by invoice with no interest for up to 30-60 days on every purchase.
One-year, 365 -day return policy (rather than just 3 months for regular customers)
All returns are instantly credited to your account
Buyer ID Cards allow all authorized users to make purchases
You can set individual spending limits for each authorized user
Easy Purchase Tracking – Track purchases by PO number, job name, or job number
Itemized statements organized by product number for both you and your employees
Ability to view, manage, and pay your account online
Fuel Savings as participating Shell gas stations
Pro Xtra Membership
No annual fees
Personal Guarantee
Depending on your business history and credit scores, you may be required to give a personal guarantee (PG) when applying for either a Commercial Account or a Commercial Revolving Card. In regards to the latter, that's in reference to Joint & Several Liability.
The rules are quite strict, so unless you qualify, it's likely to be a requirement if your business: can't meet their standards.
Does not have more than $2MM in annual sales or revenues
Is not more than 2 years old
Has fewer than 10 employees
Is a partnership or proprietorship
Tax refund up to $26k per employee!
Through the Employee Retention Tax Credit, the IRS grants eligible employers a credit equal to 70% of qualifying wages per W2 employee, PER quarter.
If your business experienced a significant decline in gross receipts or was impacted by government shutdowns due to COVID-19, then let us help you solve the IRS's refund application puzzle. You can prequalify today, just by answering 8 simple Yes or No questions.
Get Qualified Today
Fuel Rewards
Included with each of the Home Depot Cards is the ability to combine billing with a fuel rewards card from Shell. Savings are combined with qualifying purchases at Home Depot, where you'll earn $0.10 per gallon in fuel rewards for every $100 you spend in-store. Rewards are then posted in your account within 4 business days
There is a saving limit of 20 gallons of fuel per purchase, per vehicle. If your pump total exceeds $75 or more, you'll need to pay inside. There is no limit to the amount of savings you can earn. If your savings exceed the price per gallon though, your remaining balance may be used on a future purchase prior to reward expiration.
The expiration date of your fuel rewards is the last day of the month immediately following the month in which they were earned. If you have multiple Fuel Rewards Cards, do note that they are connected to one account. As in, all cards share the same rewards and they are redeemed on a first-come, first-served basis.
As a footnote, some unbranded diesel and alternative fuels may not be eligible, so be sure to inquire at your local gas station first for eligibility, prior to topping up.
Bottom Line
Whether you're a small business contractor or a large company that buys supplies at Home Depot, there is only upside when getting a Commercial Account or Revolving Card. The extended 1-year return policy is 4x that of a regular customer. Getting 60 days of internet-free payments will free up your daily cash flow. Getting fuel rewards for purchases you already plan to make is a sweet bonus.
Then, when you add on the fact they report transaction history to all the major credit bureaus (Dun & Bradstreet, Experian, and Equifax), it's a no-brainer. These perks are all, 100% positive. What you don't want to want to do, is keep a monthly balance and pay their high, 17.99% APR interest rates.
If you need to fund your Home Depot purchases with more than 60-day terms, then you need a better plan. Using 0% APR convenience checks from another credit card will give you a lot more time to pay off your purchase debt. Another option would be to apply for a 0% intro APR credit card first and then use a balance transfer to pay off your Home Depot Card debt. Depending on the offer, this will give you another 9-15 months of interest-free savings on top of the initial 60 days.
FAQ
You can further read the Commercial Home Depot Cards FAQs to get in-depth answers on authorized users, information updates, payments, statements, etc.