5

min read
The best small business loans for women-owned businesses are found via the SBA, microlenders, and online lenders. Traditional lending institutions that offer women-owned business loans also include community banks and credit unions.
SBA Loans
Currently, there are several SBA loan programs for women entrepreneurs that range from small microloans to million-dollar term loans with low interest rates.
Need help getting a fast loan?
Do you need startup financing, working capital for your business, funding for equipment or real estate? Would you like to get approval in as little as 48 – 72 hours, and your funds released within days?
Various lending products ranging are available for most business owners, including those with limited history or bad credit.
Apply Now
SBA Microloans
The best funding method for startups owned by women or for companies with just a little extra capital needs or for women that are sole owners is the SBA's microloan program. It provides funding of a maximum of $50.000 which can cover most immediate small business financing and investment needs
However, you can't count on such a loan if you want to invest in real estate or refinance other loans. The terms of these microloans are equally affordable. You will get up to six years repayment period. You can access SBA microloans from online platforms like Kiva, or Accion.
SBA 7(a)
Typically, only established businesses that have a positive cash flow typically get approved for this type of SBA term loan. The interest rates for 7(a) funding options are some of the lowest available for female entrepreneurs.
Through the Small Business Administration, women can up to an astounding $5 million with lengthy repayment terms ranging from 5 to 10 years. Officially, you will not find minimum qualification requirements, but SBA lenders generally expect a minimum of 620 credit score and a minimum FICO SBSS score of 155.
SBA 504
When women-owned small businesses need to make a real estate purchase, they can enjoy repayment terms up to 25 years by applying for an SBA 504 loan. The approval process here is similar to the SBA 7(a) loan, but having collateral can help speed things along.
SBA Express
For female business owners that want to bring additional funds into their companies, up to $350,000, the SBA Express Loan program has been created. You can access this program in the short term or long term. As the amount is significant for almost any business, you can cover many of your business needs, equipment purchase, activity growth, debt consolidation, etc.
The Express Loan is similar to the SBA 7(a) loan when it comes to qualifying terms. A company must be in business for at least two years and have a significant annual revenue to receive these types of funds.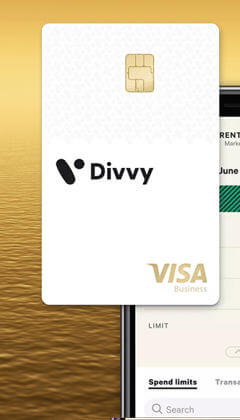 Get cash rewards and a $50k limit!
Divvy credit limits are determined by spending ability, not credit scores. Small business owners that can prove steady monthly revenues can apply for a Divvy corporate visa card.
No personal guarantee is required! All cardholders can also earn up to 7x reward points on hotels and 5x on restaurant purchases.
Get Divvy
Microloans
The amounts that female small business owners can take by applying to a microlender go up to $30,000, even $50,000, however, they usually don't go beyond $15,000. This is what they are created for, to cover the initial small financial needs of a woman-owned business and have the lowest level of interest rates in this niche market. Usually, the microloans are delivered by local financial institutions for small businesses that intend to expand (the so-called CDFIs) and non-profit organizations.
Some microlenders also accept businesses that have bad credit and give them solutions to keep going. Moreover, they also provide coaching and mentorship programs to women business owners.
Accion
It is a non-profit organization that plays the role of a microlender but also of a platform that allows businesses owned by women to find various financing options with a bigger lender, but also other services such a company might need. Accion Opportunity Fund can help you find an appropriate loan from a bank, a certification, like WOSB or WBE (Woman-Owned Small Business, and Woman Business Enterprise) to help you apply for these special funds.
Their loans go up to $50,000 and they have strict qualification requirements. Another Accion program can grant you $30,000 if you have been in business for at least 1 year.
Kiva
It is another micro-lending platform focused on female-controlled startups. They grant microloans with 0% APR for those companies that ask for donations from 5 to 35 members of your new community. They provide very small loans, even a minimum of $25. Funding is now available for US businesses up to $15,000 at 0% interest. Their financing works with all credit types, and, so far, they have granted over $1.6 million worth of loans around the world.
Online Lenders
Applying for an online loan is a healthy alternative for funding women companies. They approve loans fast, you don't have to provide a lot of documents, and the qualification criteria are relaxed, thus increasing your chances of getting a loan.
This extra risk is reflected in the higher interest rate. The amounts approved are big enough, whereas the repayment periods vary between months and years.
Merchant Cash Advances
This funding variant is based on lending against your future credit values. A Merchant Cash Advance (MCA) has very relaxed approval terms and does not need your company to be established for a long time, and have a specific minimum credit score.
However, all this good news comes with a major downside. MCA is more expensive in the long run than other loans for female business loans.
Traditional Lenders
Although this is difficult to qualify for, the traditional lenders, meaning banks and credit unions, are safer and offer lower, fixed interest rates for women in business. However, qualifying for a traditional small business loan can be difficult.
Typically, there is a lot of paperwork involved, and you'll be required to have an established business credit history and decent score too. The approval process is usually quite lengthy too and it could take weeks or months before your funding is released.
Credit Unions
If you are a woman entrepreneur you can apply at credit unions for lines of credit, secured and unsecured, term loans for commercial real estate, etc. Usually, the community banks have much better terms, unlike the big national banks. The benefits are lower interest rates and easier qualifications. Yet, there are downsides like waiting for much longer to get approved and see the money in your accounts.
Usually, the minimum credit score to be accepted is 680, plus a minimum of 165 FICO SBBS, at least 2 years of activity. You have to send lots of documents like tax statements, and a thorough business plan. A business checking account, a credit history, or collateral will speed up a lot your funding process.
Tax refund up to $26k per employee!
Through the Employee Retention Tax Credit, the IRS grants eligible employers a credit equal to 70% of qualifying wages per W2 employee, PER quarter.
If your business experienced a significant decline in gross receipts or was impacted by government shutdowns due to COVID-19, then let us help you solve the IRS's refund application puzzle. You can prequalify today, just by answering 8 simple Yes or No questions.
Get Qualified Today